Quarters Assignments
From LCARS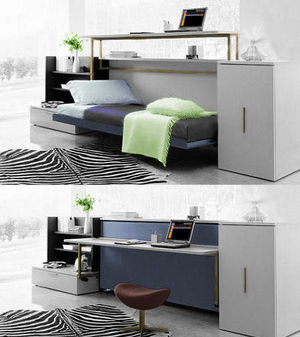 All quarters, except CO & XO quarters, are designed for double occupancy. Each set of shared crew quarters comes with one replicator, one bathroom consisting of a sonic shower, toilet and sink, and two units consisting of a Murphy bed/desk, an open shelf, and an enclosed wardrobe unit. The beds run parallel to the wall, and the desk rotates up above the bed when the bed is folded out so that it does not need to be cleared before sleeping.
Deck One
Deck Two
Quarters
Assigned Crew
Quarters
Assigned Crew
CO
Amelia Waterhouse
XO
Thalzejiv sh'Teris
α (alpha-1)
Aemyrs t'Laris & Siriad sh'Eikshah
Α (alpha-2)
Tory Drummond & Kennet Ek
β (beta-1)
Drayok Fenlux & Liam McKenzie
Β (beta-2)
 
γ (gamma-1)
 
Γ (gamma-2)
Cecilia Abbott & Amadeus Costello
δ (delta-1)
 
Δ (delta-2)
Lia t'Rehu
ε (epsilon-1)
Kaeriss & Fearne Popples
Ε (epsilon-2)
Sienna Oswin & Mayoko Takeuchi
ζ (zeta-1)
Veda Dragomirov & Lexil
Ζ (zeta-2)
 
η (eta-1)
Zola & Aysel Lakkari
Η (eta-2)
Lem Broll & Cillian Jarkill
Keep in mind that any quarters with only one person listed is not a solo occupancy, they're simply bunking with a crew member who hasn't been seen "on camera" yet, either an NPC or a future player character. If your character/s aren't listed, please contact the command team about their placement. Thank you.